Quad vs Keyboard
Round 01
Most of the products that I review on NRNR are purchased outright; however, there are some that are provided to me at a lower or no cost due to my interest in such devices. Regardless of the source, these reviews are focused on the effect it has on my disability, and I can promise you that I will never endorse something that I'm not truly passionate about.
I also include Amazon affiliate links for my setups so that you may click and see exactly what I use. Should you choose to purchase the item, I get a small commission (it NEVER affects the price) which goes to maintaining NRNR. As with sponsored products, rest assured that I only ever become an affiliate for products that I truly like and/or find useful.
As a quad, keyboards can be challenging. Without the use of fingers, hitting the keys gets complicated AND doing so in a proficient matter is even harder.
In my case, I've opted for using a wrist brace (this one to be exact: Wellgate for Women PerfectFit Wrist Support, Right Hand
) on my right hand (since that wrist hurts easily), and a wristband (this one: Wrist Sweatbands
) on my left hand. To clarify, my hands are in a punch/claw mode with my fingers bent; so, I can slide a pencil (eraser side down to hit the keys) between my two middle fingers and use that to type as if I was a "one-finger" typer, with an average speed of 40 wpm, though I can do up to 50 wpm if there's a good auto-corrector in place LOL.
I like to use light, flat key keyboards, and the Logitech ones are my favorite. I had been using their solar operated one fine until a new challenge came along: Having to use 2 computers at the same time.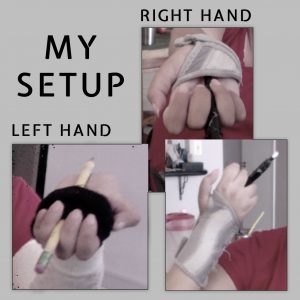 Now well, for a while, I used a separate keyboard on each system (one on a PC the other on an iMac), but that drove me crazy when having to physically arrange them, so I could switch between the 2 of them easily. This was tiring, my clumsy self-kept dropping everything all the time, and I was getting beyond aggravated… Imagine having 2 keyboards and 2 trackballs… Not a good picture.
I focused on the trackballs initially, as I was needing to replace one, and so I found Logitech's MX Ergo Trackball on Amazon, which I bought right away and was fascinated by its multi-computer workflow ability (more about this trackball on a separate post). This got me curious as to what else Logitech had to offer; eventually, I went on to Logitech.com to look and… I found hope in the form of their "Logitech Craft" keyboard (this one: Logitech Craft Advanced Wireless Keyboard with Creative Input Dial and Backlit Keys
).
Now well, the price tag on the keyboard was quite hefty, so I had to look up more info, reviews, videos, anything that would reassure me that I was on the right path. The thing is, there were very mixed reviews, mostly focusing on the creative dial which, in itself is a whole world of possibilities when it comes to adaptability, not just for software, but also for what matters to me most: accessibility with no finger dexterity.
My requirements were pretty straightforward:
I required it to connect to 2 computers running opposite Operating Systems: Check. This keyboard can connect up to 3 systems (Windows, MacOS and certain mobile devices), so that right there had me falling in love with it.
I needed something slim (weight didn't matter so much), I don't like wrist pads on the keyboard as they get in my way: Check.
I needed a numeric keypad of course: Check.
It had to be wireless since cables and I don't see eye-to-eye: Check.
It must have flat, soft keys that would not put any resistance to my pencil taps: Check. It is worth noting that this last requirement can be quite challenging as there are so many minimal variations of flat keys which don't really work for me, that it is hard to find the "perfect" setup.
Having done as much research as I possibly could, I contacted Logitech and was sent the one I am writing this review on, and I can honestly tell you that my life and productivity have truly benefited from it. This keyboard is worth its price in gold.
For starters, I was able to pair the keyboard to both computers (Windows 10 and iMac on High Sierra) AND my iPhone 8 Plus. But that was not the only thing. The crown is so flexible that I have it set up to adjust volume, screen brightness and also play/pause as the standard, in Photoshop it adjusts other things such as brush size, etc., Illustrator has a different setup, as do other programs that I am using. The wheel is very sensitive to pressure, so a slight touch and spin, or a bit of pressure downward and spin will do it. For this, I use the outer edge of my palm very comfortably.
The software that is used with this series is called "Logitech Options" and it allows you to adjust everything, including the alternate options for the Function keys, as well as 4 convenient keys that are at the top of the numeric keypad. This comes really handy when you have limitations, as you can assign mouse actions to certain keys as well.
Because this review is focused on its performance for those of us with physical limitations, I won't get into general aspects; however, I have set my keyboard to no backlight as my eyes are too sensitive and the glow bothers me, and battery life has been excellent. I use my keyboard for at least 8 hours each day (though most days I use it for 10-12 hours with minimal breaks), and battery life has been great, I charge it every 1-2 months overnight.
This is my initial review on this keyboard and done after using it for a couple of months. I will do a second review after a year of use.
Social media, newsletter and more
If you have any questions, product review requests, topic requests and/or any other inquiry, please drop me an e-mail at info@NoReplayNoRewind.com and I will get back to you as soon as possible.